If you are a fan of all things lemon like I am, you have come to the right place.  These muffins are amazingly moist and pretty quick to make.  For an added intensity of lemon (and yumminess), add the glaze.  If you're in a hurry you can substitute bottled lemon juice for fresh.  You can also omit the lemon zest if you're in a pinch, although if you have a small grater like this one, you can zest in entire lemon in less than a minute.
Lemon-Poppy Seed Muffins
Muffins:
2 cups all purpose flour
½ cup sugar
2 TBS poppy seeds
1 tsp baking powder
1 tsp baking soda
¼ tsp salt
3 TBS vegetable or canola oil
Zest (yellow part) from 1 lemon
3 TBS lemon juice
1 cup vanilla or lemon  yogurt
1 egg
Lemon Glaze:
Juice from 1 lemon (approx. ¼ cup)
Zest from one lemon
1 cup powdered sugar
½ Tablespoon butter
Preheat oven to 400 degrees.  Mix dry (first 6) ingredients together in bowl.  In a smaller bowl mix wet (last 5) ingredients.  Make a well in the center of the dry ingredients and add wet ingredients.  Combine until just moist.  Spray muffin tins with cooking spray or line with baking cups.  Spoon batter into muffin tins until 2/3 full (approx. ¼ cup).  Bake at 400 for 14 minutes or until golden brown.  You can stop here and the muffins will be just great.  For a bit of extra lemon & sweetness, add the glaze.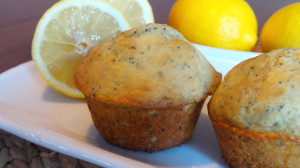 While muffins are baking, make glaze.  Combine lemon juice, zest and powdered sugar into microwave safe bowl.  Stir well.  Add butter and microwave on high for one minute.  Stir until well mixed.  Let glaze sit to thicken slightly (glaze will still be runny).  Once muffins have cooled add a small amount of glaze to the top by holding muffin over bowl and spooning desired amount (one teaspoon or so) to the top.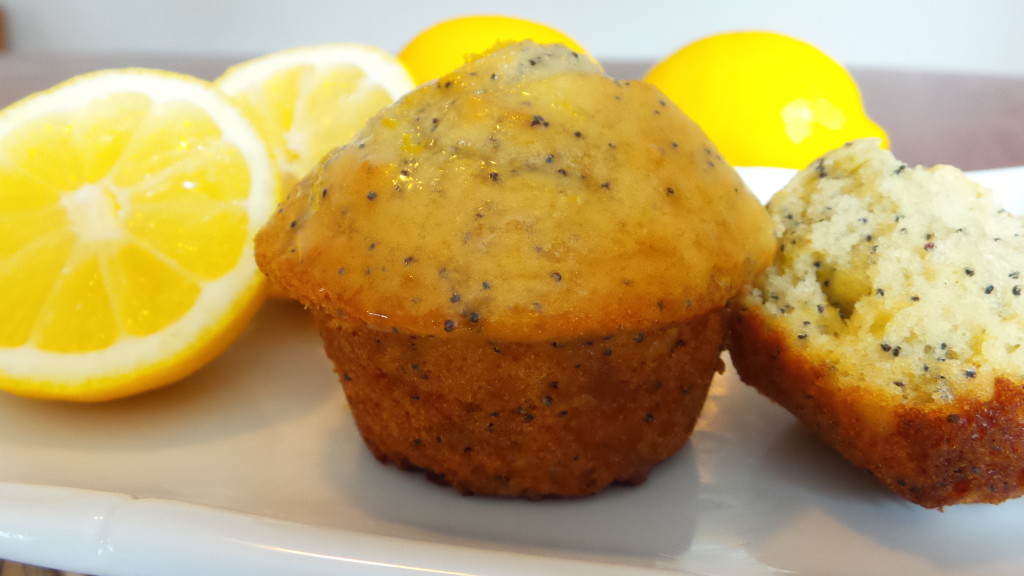 Enjoy!