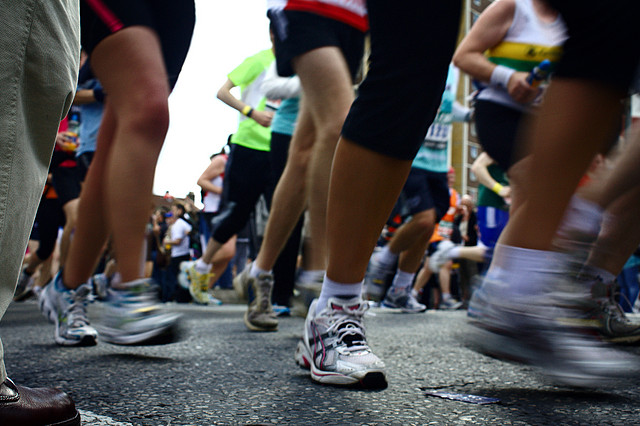 Do you over-pronate? Under-pronate??  What is the right shoe type for you: Stability? Motion Control?  Neutral?  Do you want to try "minimalist" shoes? Believe it or not, it takes some skill  and research to pick out a new pair of running shoes.  To help reduce the risk of shin splints and plantar fasciitis, or other training discomfort, take the necessary time to get the right pair of shoes.  Make no mistake, unless you are already an accomplished runner, you probably need new shoes. Face it, that pair of shoes sitting in the garage from "getting serious" two times ago, isn't going to cut it.  Neither is that pair of shoes that still looks like it has good tread on it but the shoe is so compressed from running that it can no longer absorb the shock of training.
Here are a few things to keep in mind when shopping for running shoes:
-Shop at a running store.  Before you lay down the big bucks for a new pair of shoes, you first need to know what kind of feet you have.  If you aren't sure, I highly recommend having an expert fit you.  Drop the money and get the professionals to fit you properly.  I'm sure there are some very knowledgeable people working in shoe departments of the bigger sports stores, but the question is whether or not they will be working when you go to buy your shoes.  Oftentimes, employees in these stores are moved from one department to another when the need arises.  I can't tell you how many times I've gone into one of the bigger sports stores to get myself or a family member fitted for something (shoes, a bike, etc.) only to be told that the person who REALLY knows how to do the fittings isn't working then and the person I was speaking to was "just filling in."  For this reason I recommend going to a running store where every employee has been trained to find the perfect shoes for each runner.  Pay attention to how they fit your feet and ask plenty of questions.  Then the next time you need shoes you may be able to fit yourself if an expert is nowhere to be found.
-Shop at the end of the day.  Feet expand while you run, so it's best to shop for shoes when your feet are at their largest; usually the end of the day.
-Are you an over, under, or neutral -pronator?  If you're not sure, it's best to take a worn pair of running shoes with you so the expert can examine the wear pattern on your shoes.  To see what the wear patterns for each of these look like, check out this article from REI.
-Take the socks you use to run with you when shopping for shoes to ensure the best fit.  Do you usually run with thick or thin socks?  The type of socks you prefer can make a difference in the fit of your shoes.
-If you wear orthotics, take those along as well.  After all, they will have to fit comfortably inside your shoes.
-Running shoes should not have to be "broken in."  They should feel comfortable immediately.
– A good shoe salesman will want to watch the way you run/walk in the shoes to make sure they're meeting all your needs   Be sure to use the store's indoor running track to test the shoes   If the store does not have an indoor running track ask the salesman if you can go out side and run in the parking lot or around the building.   A good running store will have some place set aside for testing the shoes
-There should be about a thumb's width between your big toe and the tip of your shoe and no slippage in the heel.  You should also be able to wiggle all of your toes while wearing the shoes.
-Know when to replace your shoes.  An average pair of running shoes should last 350-500 miles, but it's more important to replace them when they are getting worn out, feel less supportive or are getting uncomfortable.
-The cuteness of the shoe doesn't make an uncomfortable shoe more comfortable no matter how much you want it to.
If you would like help picking out running shoes online, check out this shoe finder from Runner's World.
We'd love to hear which running shoes work best for your specific needs.  Feel free to share by commenting below.
Happy Running!